Today at 11:00 CET time, the server will be disabled for scheduled upgrade to version 1.2.2.
Attacks will be blocked an hour before (10:00 CET) and will be enabled at (14:00 CET)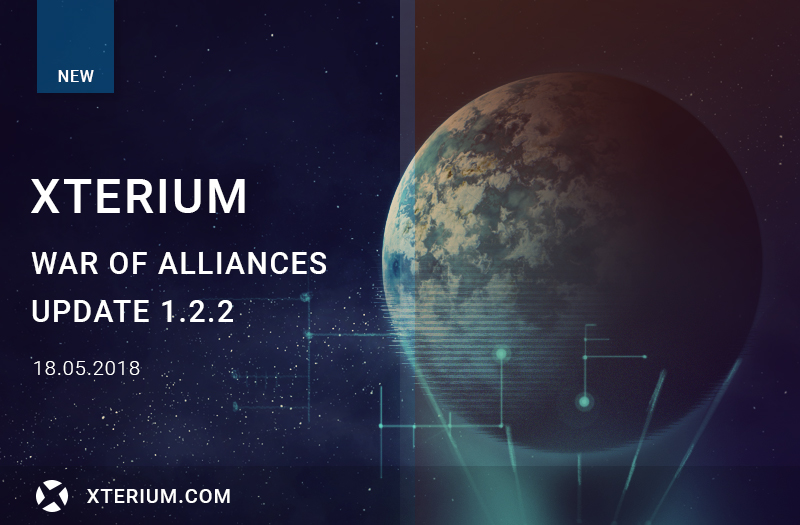 Update 1.2.2 has been released. In this update, the main role was given to the redevelopment of the planetarium and visual of planet.
We also try to make the game more modern and changed the design of the section that was first used in the Planetarium. We abandoned the familiar Xterium window sections and made the new section frameless and using CSS.
Changed the section of the planetarium. Anomalies have been added (up to 5 anomalies can be selected for each planet) Pumping anomalies is free twice on each planet during the day. Two more times you can study the anomaly for 25 DM. After that, the study will become available only for 10 Antimatter. When pumping anomalies for AM there is no time to cool the planet (each subsequent level of the anomaly can be studied instantly)
Added the animation of the planet's rotation in the overview, the planet change, the entry into the planetarium section (for animation, a new technology is used that should reduce the load on weak PCs) that will allow to play even with the animation enabled comfortably.
Some visual changes have been made. The information section has been completely transferred to the Planetarium section. Changed the background, it became darker (later on, a separate topic and voting will be created to discuss the background.) The game should become more atmospheric. The server time is now displayed on the top (next to the attack indicators)
The maximum levels of most studies have been increased. (Shields. Armor, Attack, Engines from 35 to 40) (Light Shields, Medium Armor, Heavy Armor from 20 to 25) (Restoration of shields, Active armor, from 10 to 12)
The Heavy Shield bonus has been changed to increase their recovery. Earlier for the level the bonus gave + 1% to the recovery of Heavy Shields, now 0.75%
Reduced research bonus Restore shields from 3.5% per level to 2% per level.
The compositions in Ruins for small packs of the fleet are simplified.
Added notice to the review if the player is in the MV
All scripts are optimized. Increased speed. The game is translated to php 7, which should significantly increase the speed of game.
Added Spanish language ingame.
Heavy armor
Сообщение отредактировал odiabile: 19 Май 2018 - 19:38