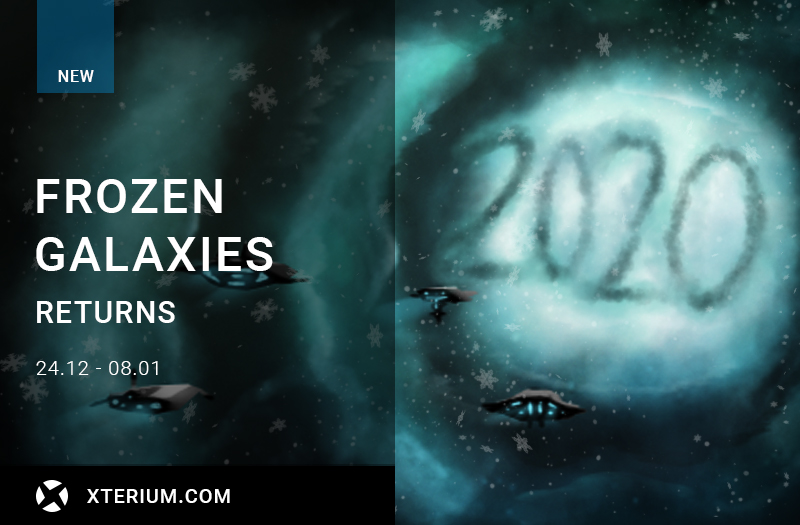 The Frosty Galaxy (Battles) event starts on 24/12 at 17:00 (CET time) and will be held every day until 08/01 (included)
The event will start every day at 17:00 (cet time) and will last 2 hours.
Any player who has reached level 20 in the universe of War of Alliances can participate.
To participate in the event, you must send the colonizer to the second galaxy and create a planet there (you can only create a planet after the start of the event). That is, from 17:00 to 19:59 (cet time).
At 20:00, the results of the tournament are summed up and awards will be given to the players. As in the weekly tournament, players can receive 10 different rewards for successful attacks in the second galaxy + an additional 10 rewards in antimatter depending on the place in the final leaderboard.
Features of the second galaxy:
After the colonization, the player receives a planet with the initial infrastructures. The planets of all players are the same
It is impossible to send resources from the planets of the first galaxy to the second or vice versa.
The speeds of building the fleet and buildings in the second galaxy are increased, as well as the speed of production.
Attack time = 5 minutes (regardless of distance)
The recycling mission time may not exceed 5 minutes, but may be less than 5 minutes.
In the event that a player is defeated on the planet or the moon, he loses points in the tournament. At the same time, he receives a shield that protects him for 10 minutes.
If a player attacks another player, the player loses his shield.
All combat technologies of players are equal. The arsenal is not taken into account. The same for researches, senate and modernization center.
The number of points a player gains or loses in the event of victory / defeat depends on the difference in the number of tournament points.
If the number of points is equal, the player receives 25 points of the tournament for the victory.
After an attack, 25% of the resources fall into the wreckage. Defense restored by 50%
Сообщение отредактировал odiabile: 23 Декабрь 2019 - 22:04