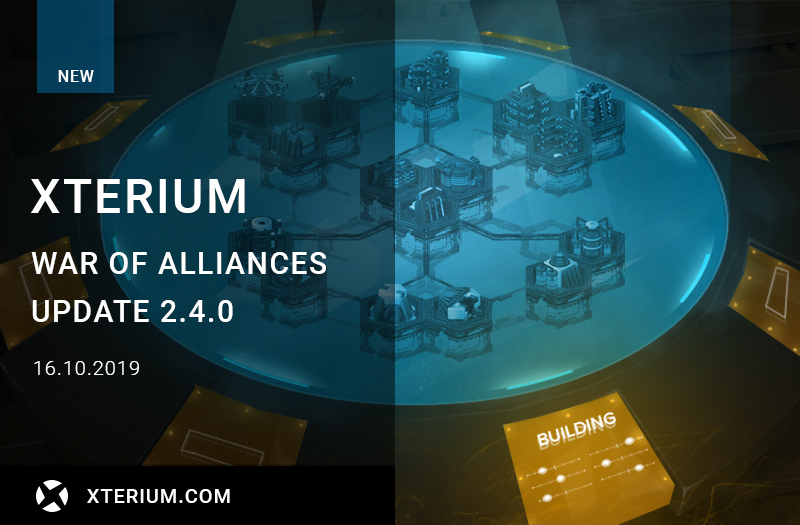 The buildings
Buildings Orbital base, Spaceport, Terraformer, Moon base, Particle accelerator no longer occupy fields during construction.
Terraformer and Lunar Base give 1 field less during construction (thus the total number of fields has not changed due to these buildings)
Now you can build the Lunar Base and Terraformer even when you have completely run out of fields on the planet.
Generations for each building are now prescribed with rounding.
Completely redesigned visual series section buildings. Added map of buildings with convenient placement of each building. Removed obsolete building design.
The card of each building displays the current information on production at the moment and with an increase in the level of the building, taking into account all the bonuses.
Changed bonuses from the Nanit factory. Each level now accelerates the construction of the fleet by 20%, previously 100%
Changed bonuses from the Robot Factory. Added 5% bonus to speed up the construction of the Navy and Defense. Added a bonus to increase the volume of the maximum order in one pack during the construction of the fleet and defense. (the initial pack sizes are reduced)
Changed the shipyard bonus. Increased fleet and defense construction speed bonus from 10 to 20%. Added a bonus that increases the shipyard's construction line for each level 4 +1 line. (in the beginning, without the built shipyard, queue = 0)
Fleet
Completely redesigned the combat system. Changed the effectiveness of a number of fleets. This is intended to make the combat system more diverse, and each type of fleet valuable.
Added more detailed efficiency to the fleet card (displayed by stars). Where each star = 50% efficiency. This means that with an equal number of points, this unit will destroy 50% of the enemy's points. Moreover, 2 stars (100%) means a complete victory, and 3 or more stars means a victory with a certain margin in the fleet points. Moreover, the fleet of one class is by default 50% effective against any other fleet of its class, that is, any light fleet against each other will fight 50 to 50 (in the ratio of loss points).
A tooltip has been added to the Fleet / Defense card, which is understood as efficiency and not effectiveness.
Levels
Added different bonuses for each Rank (the rank increases every 10 game levels)
Discount on fleet restore costs
Bonus when purchasing resources using antimatter
Discount on premium fleet and premium defense
Bonus when purchasing dark matter using Antimatter
Research
Added the ability to add researches to the list of Necessary. Studies from the list will be automatically launched for research in case the player is active in the game.
IMPORTANT! If the player has closed the game or is not active in the game, then studies from the list of necessary will not be automatically studied.
Reduced the requirements for the construction of a Production Fund from level 5 of resource extraction to level 3 of resource extraction.
Fleet Restore
Now after the battle you can restore only 75% of the fleet that was lost in battle
Fleet restoration cost using dark matter is reduced by 30%
Fleet restoration cost using antimatter reduced by 20%
Fleet restoration cost using stellar ore reduced by 50%
Added Restore Fleet button to battle message.
Other
Added discord channel, we will try to use it instead of forum for European players.
Fixed a bug due to which in some cases it was impossible to buy resources using dark matter.
Fixed a rare bug due to which Star Ore could not be credited when it was found.
Fixed errors in the descriptions.
Fixed bug with putting drawings at the maximum price (previously this was not possible in some cases).
Turned off the rotation of the planet with arrows (in case you have turned on the animation of the overview)
Added tooltip when hovering over the Science icon in the research section.
The Free indicator is added over the amount of Anti-matter when a player can vote in tops and get a small amount of AM for free.
A temporary restriction has been introduced on the purchase of a flexible bonus on Production Funds (the price has been significantly increased. You can actually buy a bonus for the price indicated there)
Сообщение отредактировал odiabile: 17 Октябрь 2019 - 18:30