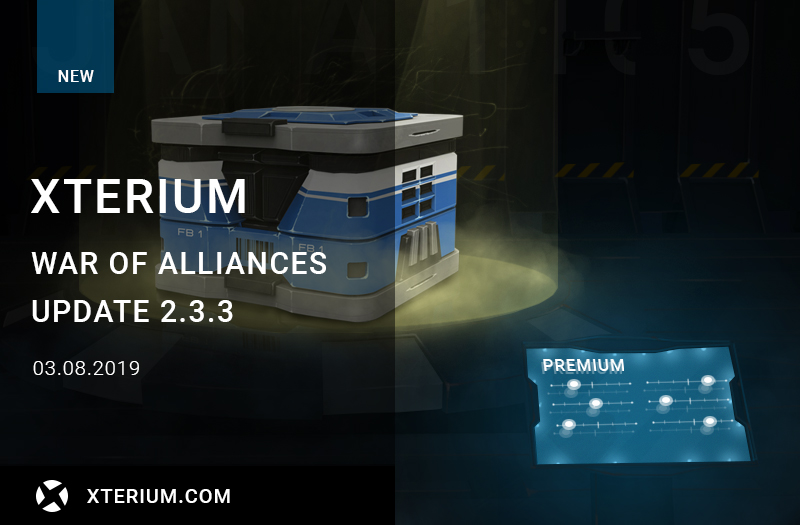 Premium:
Added additional package of dark matter purchases for antimatter (1000 antimatter to 16.000 dark matter)
Reworked bonuses and prices of all premium packages
The exchange rate of antimatter to dark matter is changed from 200 dark matter to 175 dark matter for 1 antimatter
The exchange rate of resources to antimatter is changed from 50,000 to 25,000 resource points per 1 antimatter
Added new section "Flexible Accelerators" with the following bonuses:
Mines general production
Production of fund of production
Energy production
Reward of contracts
Reward of Expedition
Reward of Ruins
Reward of Expedition Hostal (in case of a purchase not a full 100%, and for example 150% you have a 50% chance that the bonus will work as 200%)
Number of Expeditions
Fleets points you can send on Expedition
Increase Science points (extremely expensive bonus. Designed primarily for the purchase of 1 day)
Accelerator particle production.
The player can choose the % of bonus himself and his activation for a long time from 1 to 30 days (1/10/20/30). It should be understood that flexible premium accelerators are an addition to the Accelerator Packs. It will be more profitable to buy sets if you need 2-3 bonuses from the set. All bonuses from Flexible Accelerators are summed up with the bonuses from Accelerator Packs.
Contracts:
The minimum reward in resources for the execution of the contract is increased by 10 times.
The minimum reward in dark matter for the execution of the contract is increased 5 times
Increased the time available to complete all contracts
Added new contracts to search for Drawings and Parts while flying to Barbarians and Pirates
Changed the awards in a number of contracts. Markedly increased for long contracts.
Fixed condition for contract Resources in ruins. The condition is reduced by more than 2 times.
Simplified conditions for contract damage in ruins by 15%
Expedition and Host:
The resource distribution in the ruins was changed from 53,30,17% for metal, crystal and deuterium, respectively, to 47,36,17%
Increased Ruins initial profitability from 13.75% to 50%
Changed the % of Ruins profitability reduction to Astrophysics level (profitability increased at all stages except Astrophysics level 9, profitability remained unchanged). Previously, a player without bonuses could bring resources for one successful flight 13/20/31/46/60/88/144/224/320 depending on the level of astrophysics, now these values ​​are 50/63/80/100/127/160 / 202/255/320
Added description for each mission in fleet page
New reward system. Now, with the increase of the level of the player is invited to choose one of three awards. These can be resources, fleet, dark matter, less often stellar ore or even antimatter at high levels. (Awards are given until to level 300)
Efficiency of the Cruiser against the light Fighter increased by 35%
Efficiency of Avatar against the light Fighter is significantly reduced. (Avatar is no longer effective against the light Fighter. The fight ends in a draw)
Efficiency of Oneill against Frigate removed (Oneill is no longer effective against Frigate. Fight ends in a draw)
Efficiency of Black wanderer vs Destroyer increased by 25%.
Build the Production fund on a colony to level N
Use mods in the Modernization Center
Improve the Particle Accelerator to level N
Exchange Antimatter using Dark Matter
Make a purchase of a resource using Antimatter
Other balance changes: (most changes are aimed at simplifying the start in the game for beginners)
Spaceport from the planet now works on its moon
Changed rewards for package Quick Start
The time of construction of the first levels of buildings of the Spaceport, Lunar Base, Laboratory, Sensor Module, Technopolis has been reduced. Teleport
Reduced construction time of the first three levels of the Production Fund
If the price of research = 1 science, then the time of study = 15s.
Reduced cost of studying the study Colonization Level 4
Reduced price of first 3 levels of research Expedition
Reduced the price of levels 2 and 3 of research "search fleet"
Changed the number of fields during colonization. The minimum number of fields on all positions is changed from 80 to 200, the maximum number of fields on all positions is increased from 250 to 270
New promotions, bonuses, discounts:
The promotion on the speed of the fleet
The promotion on the speed of building a fleet / defense increases the maximum limit per second and works on top of all other bonuses (100% = x2)
Added the ability to drop the Daily Bonus on the purchase of antimatter
Discount on premium packages
Bonus on the purchase of dark matter is now flexible. (previously it was fixed + 20%, now it may be higher)
Added three flashing dots under the research icon when the player doesn't have studies to study. Also the color of these points is changed to blue.
Increased the standard volume in the game for all settings to 40% (only for players who registered after the update)
Add a warning to the description of the Teleport that the use of a teleport is prohibited when less than 5 seconds remain before the attack)
Added description for each mission when sending
Displayed the maximum number of possible fleet points for sending in the first window of the Expedition section.
Resource purchase cards in the premium store updated
Updated container images for Premium packs.
Updated clearance window
Protection and security:
Increased the number of points to remove the full protection against attacks from 1000 to 15.000

Reduced the chance of captcha
Hotkeys:
Switching planets in the overview by the arrows on the keyboard
Exit - closes open tabs
Сообщение отредактировал Schataev: 03 Август 2019 - 16:07