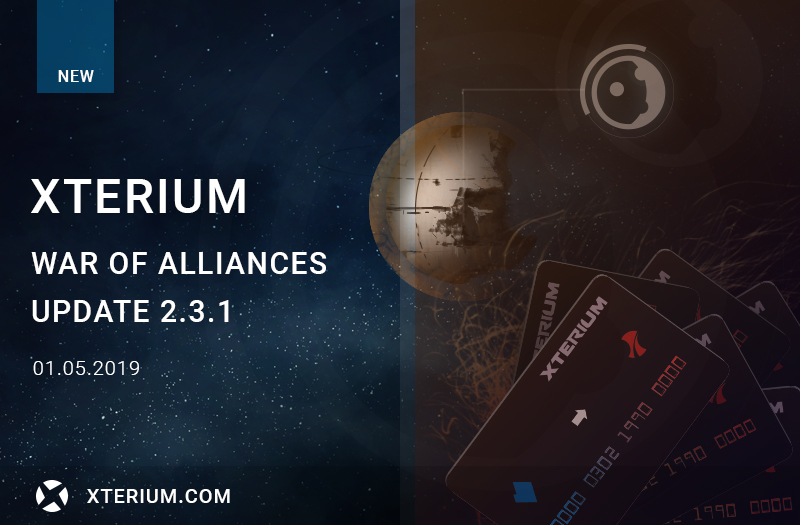 Reduced the numbers of resources: of metal, crystal and deuterium by three zeros (1000 units). The speed in game it's the same. Nothing change for you. Now it's only easier to read numbers.
Reduced requirements for the construction of the Production Fund
Increased the maximum speed limit for fleet / defense construction from 100 to 250 units per second.
Reduced speed of heavy fleets versus light fleets by 10%
Added display time to complete the execution of the contract.
Auto name for the moon. Now the name will be automatically generated for the moon = (planet name (m))
Teleport recharge time. increased to 120 minutes as start. You can reduce the recharge time by -20% for each level of Teleport
Added anomalies for moons:

Patricle accelerator development - increases the production of the Particle accelerator (including energy) by %
Protection of the moon - increases by% the amount of Stellar ore necessary for each % chance of destruction
Increasing science by Technopolis - increases by % the production of science by Technopolis
Teleport recharge reduction - reduces teleport recharge time by %
Increased Phalanx range - Increases the range of the phalanx by %

Exchange Stellar ore for Antimatter
Exchange Antimatter for Stellar ore
Exchange Dark matter for Antimatter
Exchange Resources for Antimatter (5kk metal, 2.5kk crystal, 1.25kk deuterium = 1 AM)
Each level of the Particle accelerator increases the protection of the moon by 20% (on the principle of anomaly, increases the number of Stellar ore)
Added energy generation to the Particle accelerator
Phalanx scan price changed to 1 Dark matter per scan
In orbit, a button is added to switch to the list of built defense on the planet.
Added the ability to sell the Defensefor 50% of the cost.
The purchase price of a resource on the market for Dark Matter is reduced by 1.5-2 times, depending on the lot size.
Reduced prices for fleet restoration of fleet and defences for Antimatter 1.8 time, for dark matter 1.75 times, for stellar ore 1.6 times
50% increased rate of purchasing resources for antimatter (it became more profitable)
The Premium Package (PvP- Large) is now issued to all new registered players.
New promotions worked out (wait soon)
Add visual stock display
In order to increase account protection, a restriction has been introduced on the purchase of Parts, Drawings, Arsenals in the market without a confirmed e-mail (E-mail can be confirmed on the portal)
Edited by odiabile, 01 May 2019 - 19:56.